Hello, and welcome to the K & L Products website. We are proud to offer to you our Garlic Head barbecue sauce – a tasty, tangy, sweet, sour, garlicky, rich, delicious, dark, luscious, blend of spices, onions, and herbs, in a thick tomato base. But mostly, it has lots and lots of garlic to brighten your day, your BBQ, or whatever you decide to put it on or with.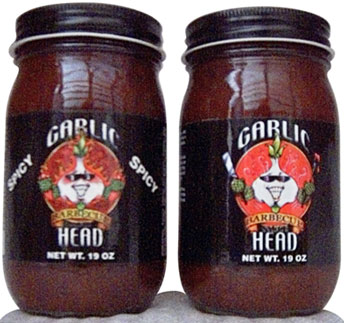 If you have a recipe that calls for two cloves of garlic, and you use two cloves, this barbecue sauce is not for you. If you use a whole head of garlic because it's all you have in the house, this is the stuff you've been waiting for!
We've collected over 20 years of market research and we think you'll find this the best barbecue sauce around. Make no mistake, this is not run of the mill BBQ sauce. It's thick as spackle, and it won't pour out of a jar.
Garlic Head is sweet, tangy, garlicky, rich and addictive. Use it on ribs, chops, chicken, shrimp, roasts, ice cream (kidding) and anything else you can think of where a delicious glaze of flavor is what you seek.
So whether you are planning on having a little party or a big one, Garlic Head adds the gourmet touch with the right amount of flavorful, garlicky zip!

All Prices Include Shipping! All prices are for US orders and shipments only.
Other arrangements may be made in advance if you e-mail us or phone us on (000) 000-0000.
Original Garlic Head
Case (6 Jars)
Spicy Garlic Head
Case (6 Jars)
Split Case
(3 Original, 3 Spicy)
Garlic Head
T-Shirt *
$42.00
$42.00
$42.00
$20.00
* E-mail us with your preferred size – S, M, L or XL.


Get a Classic Garlic Head T-Shirt! (Above)
Or Have A Look at our Garlic Head Gift Shop! We have t-shirts, sweatshirts, baby bibs, BBQ aprons, coffee mugs, beer steins, coasters, Que cards, and even a Garlic Head teddy bear!